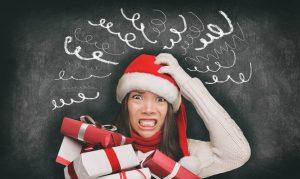 OMG (Oh My Gosh!) the seasonal rush has started and there's a lot to get done before Christmas. There's shopping, baking, parties, decorating and entertaining. The demands seem endless! A common complaint at Innovative Chiropractic is about tension in the neck and shoulders which can lead to headaches and migraines. For all our Mill Creek neighbors and friends all over Washington, here are our recommendations for overcoming holiday stress.
Set realistic expectations of what an ideal family holiday should be like. Don't be a crowd pleaser; be true to yourself.
Take advantage of modern conveniences. Order gifts online. How about stopping at the grocery store for cookie dough or a dish to take to the holiday party.
Resist overspending. Avoid emotional overspending. Rather make a gift list and a shopping list and stick to them. Suggest a gift exchange instead of buying for everyone.
Eat wisely. Make smart food choices and balance healthy alternatives with holiday extravagance and you will feel so much better without the guilt that overindulgence brings.
Split holiday chores into manageable parts. Make time for shopping, baking and holiday events, and plenty of sleep. Remember to also make time for exercise which is one of the best ways to overcome stress.
Set aside negative experiences and differences at holiday parties and family gatherings. Focus on the present moment and be mindful of what you can or can't control.
Finally, schedule a visit to Innovative Chiropractic Rehab & Massage this month or in January for the new year. We can help you manage your holiday stress as well as improve your overall health.